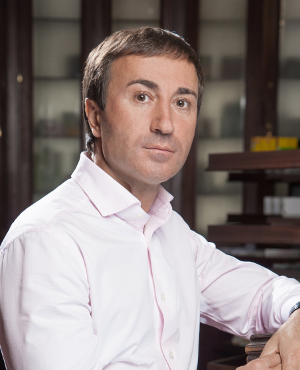 Eduard Zakhrabekov
Born in 1968 in Leningrad.
Education:
In 1993 graduated from St. Petersburg medical Institute. academician I. P. Pavlov in the specialty "Medical therapy".
In 2001 received a second degree in "Finance and credit" Saint-Petersburg University of Economics and Finance.
In 2006 he defended his doctoral degree.
Experience:
In 1996 he foundedand headed the company BSS involved in the supply of medicine, medical devices and medical equipment.
The company BSS today includes:
wholesale company BSS
retail network of "Aloe" (232 pharmacies);
a company selling medical equipment Initiative;
clinic dr. Pelya.
BSS occupies 8th place inthe ranking of the largest Russian distributor and one of the ten most influential companies on the Russian pharmaceutical market.
Hobby:
Eduard Zakhrabekov
successfully combines the role of businessman
and writer
.
From the pen of
the head of the company
BSS
has already published
several books
.
One of
them is
"Shatters",
is available
in
the online stores
:
ozon
, amazon
, ebooks
,
and
other shops
.
"
Each
sleep
knowing your purpose.
You only need
to Wake up!
"